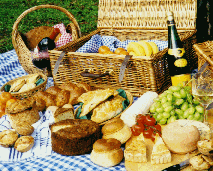 A Picnic is a special occasion……
All the ingredients in your picnic are home-made using local free range and organic produce.
Your picnic will come in a carrier bag and include a small square paper tablecloth, napkin, paper plate, plastic knife, a wipe, salt and pepper plus a drink. Mix and match your picnic from the choices below.
Please contact us for pricing
Mini French Breads & Welsh Wholemeal/White Bread Rolls (Bara Cymreig & Bara Can) and Homemade Mini Pitta or Wrap filled with:
Brie, egg and smoked trout
Smoked salmon, caper & dill
Ham & cheese
Cream cheese, walnut & celery (v)
Pesto & tomato (v)
Coconut & curried egg (v)
Egg mayonnaise & cress (v)
Salmon & cucumber
Chicken liver pate with green bean chutney
Chicken and almond
Roast beef with cucumber relish
Prawn, creme fraiche and lime
Chicken & tahini
Tuna & sweet corn
Bacon, pine-nut & chilli
Mixed salad leaves and tomato (v)
Additional savoury ideas for your picnic
Tuna kebabs

Quail Scotch Egg made with chicken mince

Crispy crab filo triangles

Cashew & basil tartlets (v)

Sesame cheese croquettes (v)

Duck & ginger pies or tartlets

Coriander lamb croquettes

Spicy chicken goujons

Vegetable samosa (v)

Caramelised red onion & feta parcels

Parmesan shortbreads with goat's cheese (v)
Homemade muesli bars
Bara sinir (ginger cake without ginger)
Mini laver cakes
Welsh Border Tart
Apple cake
Old Welsh gingerbread
Bara brith
Welsh cakes
Welsh curd cakes
Shearing cakes
Tara flapjacks with raisins
Savouries, Pies and Pasties
Tara Pasty (Chicken/beef/ lamb/ vegetarian or your own combination)
Raised pork & apple pie
May Day Pie (Pastai Calan Mai)
Lamb and mint sausage roll
Various individual quiche (v)
Leek pasty (Pasteiod Cennin) (v)
Beef & Burgundy pie
Thai chicken sausage-rolls
Waldorf salad (apples walnuts and celery) (v)

Greek pasta salad with olives, feta cheese and pasta (v)

Russian salad in light mayonnaise (v)

Salad Nicoise with tuna, olives, egg and cucumber

Mixed green salad with tomato
Various bags of crisps by Walkers and Tyrells

Mushroom palmiers

Vegetable crisps (carrot, parsnip and beetroot)

Savoury home-made oatcakes
Fresh Fruit
Fresh local fruits of the season to include:
Strawberries
Raspberries
Apples
Pears
Grapes
Bananas
Plums
Nectarines
© Copyright Beeton for Time