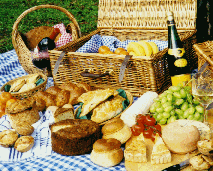 Our picnics are presented in a Beeton For Time wicker hamper, including a cold insulated bag, non-breakable plates and glasses, cutlery, cork screw/bottle opener, table cloth and napkins (all loaned to you for the day, with small deposit payable). Choose from any two of the following from each course to fill your hamper.
Minimum 4 persons
Starters
Avocado Mousse
Iced Cucumber Soup
Mushroom Profiteroles
Creamy Ham & Mushroom Puffs
Smoked Trout Pate
Game Pate
Lumpfish Caviar Creams
Main course
Beef with Mustard Crust
Individual Duck & Orange Pies
Individual Burgundy & Beef Pies
Quail Scotch Eggs
Asparagus Quiche
Minted Lamb Sausage Rolls
Smoked Salmon Lined Salmon Mousse
Game Terrine
Selection Cold Meats
Honey Glazed Ham
Puddings
Fresh Strawberry Tartlets
Raspberries & Cream
French Apple Tart
Apricot Flan
Passion Fruit Mousse
Individual Summer Puddings
Individual Lemon Mousse
Included in the price: a selection of cheeses and oatcakes
A deposit of £50 for will be required on confirmation of the order.
© Copyright Beeton for Time